The Selangor Information Technology and E-Commerce Council (SITEC) hosted their second Chinese E-Commerce Class at the Selangor Digital Creative Center (SDCC) on 30th August 2016.
The topic of the day was on the e-Tailer process, and SITEC hosted the following speakers:
Chong Lee Kean, Co-founder and Director of Business Development from iPay88
MOLPay Co-founder & COO Mr. Oon Wee Keong
Senior Account Manager of Uitox Ms. Ang Eit Yin
Samantha Yong, Senior Business Development Manager of Lazada Malaysia.
Buyer Beware? Actually, both buyer and seller should take precautions
Chong (below) mentioned that as the online payment transaction volume has been increased, the incidences of credit card fraudulence is also increasing at the same time. Often, these scammers steal personal details via online payment transaction processes.
Scammers typically exploit human weaknesses such as greed by offering free app downloads or tools to attract consumers to click on unsafe links.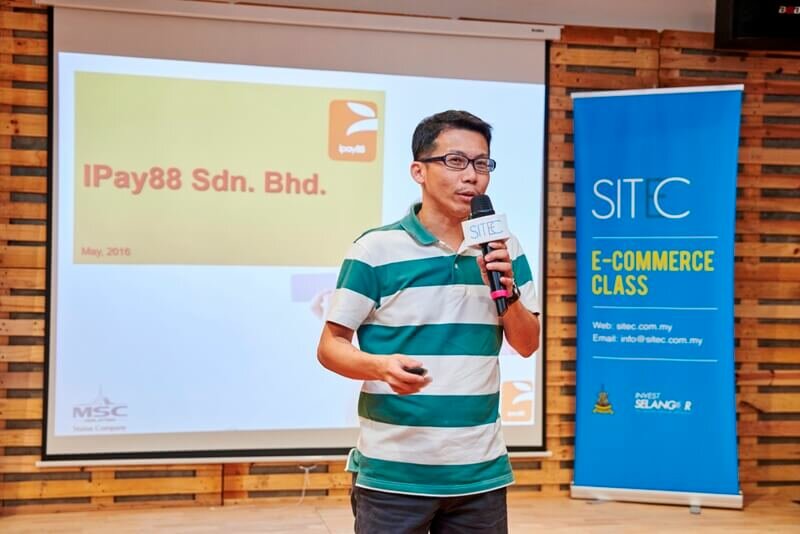 Participants were briefed to be aware of such cyber risks, and urged not to download any apps without knowingly wanting to, or to click on unsafe links. Additionally, he warned consumers against doing online banking using unsecured or public Wifi as these networks are not secure and hackers are able to get your data off it.
Presently, most online payment systems utilise a 3-D security verification system, which allows only three attempts when entering passwords, hence reducing the chances of being hacked.
Credit card fraudulence is a common occurrence on C2C platforms. While B2C platform has already provided a stable payment service, the nature of transactions on C2C platforms are still subjective and dependent on the personal, human agreement between buyers and sellers. Online merchants, especially those who are new to e-commerce, may be unfamiliar with the risks associated with scam buyers, and may inadvertently be duped into entering into an unsafe transaction.
Online Payment Providers: Don't Be Limited to a Single Market
Malaysia's online payment systems evolved from a strong local demand.
MOLPay Co-Founder Oon Wee Keong (below) shared that, back in the younger days of fintech, currency exchange in business transactions between international and local companies saw insanely high transaction fees, sometimes overshadowing the actual amount transacted.
For example, back then, cashing out a USD 35 cheque required a USD 40 transaction fee!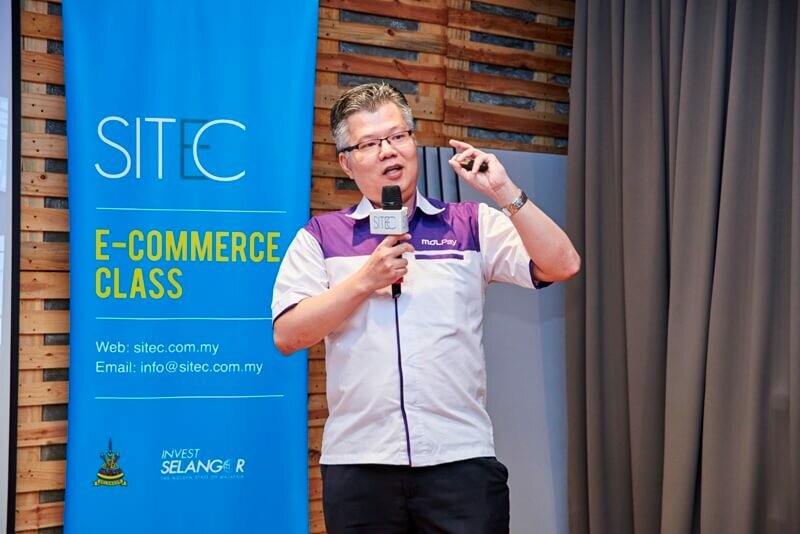 Additionally, in the early stages of the world of online payments, 3-D security verifications did not yet exist, and each time a transaction was made, there would be a huge amount of anxiety with both buyers and sellers. Should issues occur with the transaction, both seller and buyers would have less trust in their platform.
He also shared that, in terms of startup up a payment gateway company, entrepreneurs cannot just limit themselves to only their domestic market, as one market would never be enough to sustain the company, which is why MOLPay had started diversifying their investments in other Southeast Asian countries such as Singapore and Thailand.
Currently, 20% of all online transactions utilise payment gateways in Malaysia. Taiwan's market is approximately 10 times bigger, but even so, only 30% happens on online payment gateways.
Oon reasoned that, if an online merchants' core target markets are students and non-credit card users, it is encouraged to use MOLPay's offline payment services at 7-11 convenient shops or Petronas stations.
On her experience with cross-border operations, Uitox's Ang Eit Yin (below) shared that consumers' choices in cross- border e-commerce hinged on two reasons:
a) Low prices and
b) Regional exclusivity
Hence before companies decide to get involved in being a cross-border e-merchant, they have to consider whether the product still with a competitive advantage after the inclusion of the logistic fees.
Lazada's Samantha Yong (below) shared that in terms of marketplaces, many companies with stagnant product displays (products that have been displayed in their online stores for a long time without updates) tend to receive lower profits, which in turn lead companies to withdraw from the platform.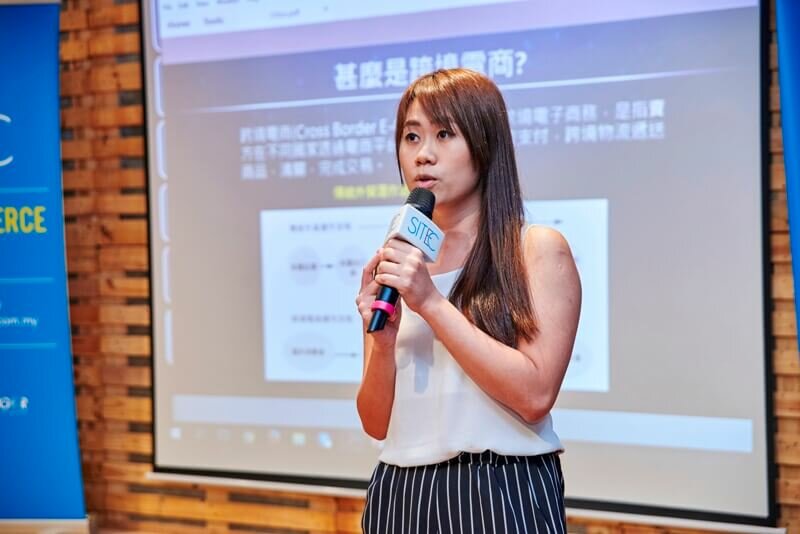 Samantha urged participants to avoid this pattern of negative thinking, and instead, companies should take the time to reflect why consumers are not selecting their platforms. Is it because their products are not regularly updated? Are the descriptions confusing or incomplete? Is the store difficult to navigate?
According to Samantha, it is important to understand consumer psychology, the price of the product, its accessibility, and the quality of the product itself.
A key mistake sellers make is that they use product names that are unique – so unique, in fact, that consumers have a hard time searching for them!
Consumers usually would search for products using simple and common key words, hence the keywords in their product names should aim to fulfill that.
Elements such as basic specifications and discount labels should be placed along with the product name so that it can catch the consumers' attention.
When setting the product price, it is essential to put attractive price figures such as RM49.90 as opposed to something like RM 50.25. The psychology of tactics such as this depends on the consumer's perception that the product is "cheaper" as it has not passed the threshold of a round number, and they work surprisingly more often than not.
In fact, latter pricing may even push customers away from buying the product.
For non-electrical products, such as clothing and accessories, online merchants ought to take note on various small details such as accurate measurements, a focus on material/quality, as well as ensure that the displayed pictures are high quality, clear and not obfuscated with unnecessary detail.
This helps the consumers to better envision how the product may feel and look like, which will work to help them make a more informed decision before purchase.
Lastly, Samantha shared that a complete transaction does not mean everything is over – post-sale customer service goes a long way to ensure repeat customers or glowing reviews.
She shared that one way to increase repeat sales, is by placing small gifts or notes in the parcel, and also remind their customers to share their feedback and comments with them in email, or on an online portal.
The session ended with a short quiz on the session, with the winners going back with tickets to the Southeast Asia E-Commerce Conference and a Terminus backpack sponsored by Bagman.
Comments
comments