SITEC learns more about the popular Hobbyist online store that won second place in the recent Top EC Merchant Awards 2016.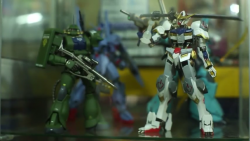 Gundam.my is the brainchild of Gundam modeling enthusiast Lai Heng Choong, who took matters into his own hands when he got frustrated with the difficulty of acquiring Gundam models locally.

Applying his experience and knowledge as a web programmer, he decided to turn to e-commerce and to acquire and sell Gundam kits online in 2010, taking two weeks to come up with the Alpha version of the Gundam.my website.
"After setting up my site, I went to the hobby shops that I knew, and approached them to be suppliers for me, where I will share the profit with them if I managed to sell their stock online. However, none of the hobby stores would partner with me on this venture," said Lai.
After facing rejection after rejection from the hobby store,s Lai eventually decided to buy directly from Bandai at retail prices, and sell the modeling kits online at a small profit margin. Having started this as a part-time venture in 2010, Lai took on the job full-time in 2013.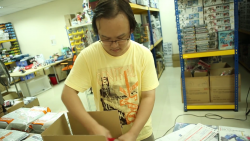 "When the site went live, the number of sales grew very quickly, and I invited my colleague Johnny Kuan to join me to manage the business as I was still in this venture on a part-time basis. We hired our first full-time staff a few months later. I then moved towards managing this business full-time in 2013," said Lai, adding that they now had seven full-time workers in the team.
Lai noted that he was very lucky to have been able to register the gundam.my domain name, and that there were few competitors when he had started out on this venture. This, Lai said, allowed the company to build up their reputation and their customer base.
"Gundam.my now has more than 2000 SKUs, which I would say is the widest range of Gundam kit selections among similar shops in Malaysia, and we serve every state in Malaysia," said Lai. 
However, things were not smooth at the very beginning in 2010. However, Lai noted that they had put in a lot of effort in search engine optimisation, social media marketing, and blogs.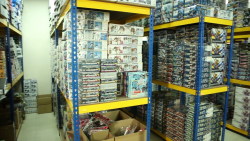 "Slowly, people got to know us, and we managed to get a first page ranking
in Google's organic results. We started joining Malaysian e-marketplaces in 2013, and now we have online stores in almost all of the famous e-marketplaces in Malaysia, such as Lelong, 11street, Lazada, Youbeli, Shopee, LogOn, and Gemfive, among others," said Lai.
However, what Lai has done is not only set up a shop to cater to a community, he had also taken a hand in helping the community to connect and grow as well.
"We do not only sell the modelling kits. We have also set up a Gundam fans community to help each other with any problems we may encounter. We also participate in e-marketplace campaigns and maintain a good relationship with them, and any subsidies or discounts provided to us would benefit our customer base as well," explained Lai.
"Customer satisfaction is our top priority, and we always try our best to help customers resolve their problem, even if the problem is not caused by us," added Lai.
Lai is also of the opinion that the local e-commerce industry will keep growing, with more and more people buying online, though this would also mean that there will be more and more competition for online merchants.
"As such, what I can see in the near future is that the percentage of our margins will get lower and lower, and may eventually become a red ocean market. Brand-building is our top priority in the coming few years," said Lai.
When asked about the Top E-Commerce Merchant Awards, Lai expressed his belief that the event will definitely help the industry to grow in Malaysia.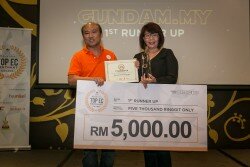 "I was surprised to be the 1st runner-up in the awards, as there are many great shortlisted participants, and our public vote results were also not in the top 5 of the list," said Lai, adding that he had really enjoyed the ambience of the event hall.
Watch Gundam.my's Winning Video Here!
Comments
comments