The final EC Class of 2016 was on the topic of LINE, WeChat, and Instagram Marketing, and saw a huge turnout of almost 200 participants on the day of the event. With three speakers, each speaking about a different app, as well as a number of merchants with booths set up outside the event space, SDCC was bustling with activity.
The first speaker, who spoke on the topic of LINE marketing, was CK Wong, the founder of Silver Mouse, and also the co-founder of eCommerceMILO. At the beginning of his session, Wong showed a promoting Silver Mouse, which used the scene of a shopkeeper haunted by his mother, from whom he had inherited the shop. The video pushed the point of technology being a major part of business right now, especially the use of social media.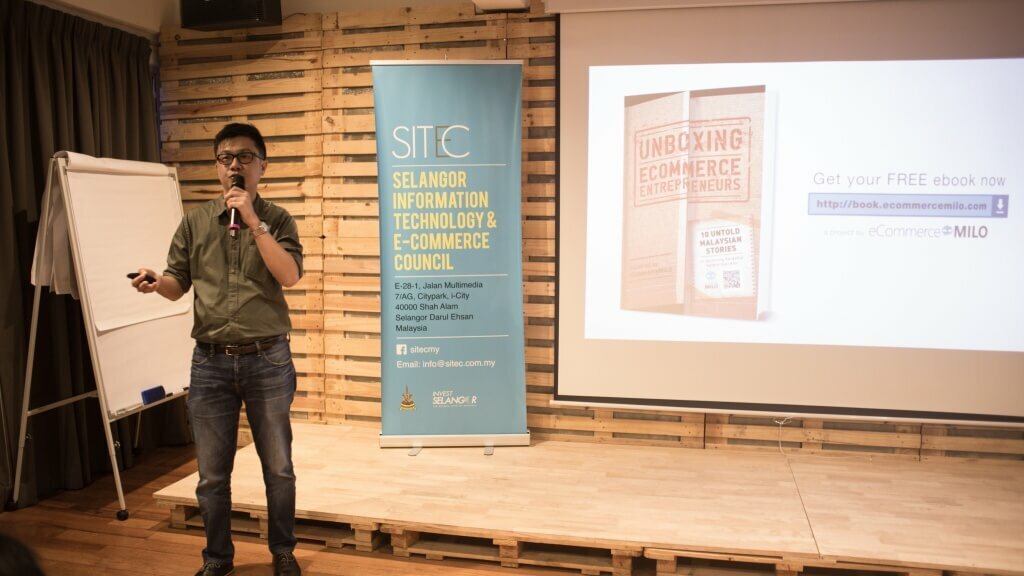 "Even the Underworld is being digitised right now, so it is clear that going online is the next step," said Wong, with reference to his video.
Wong then noted that there has been a strong up-trend in mobile shopping over the past two years, with mobile commerce having grown 20%. Payment gateway iPay88's total number of transactions also saw a full 50% being through mobile.
After a brief explanation of push and pull marketing, Wong went into the means through which LINE can be used to reach a target audience. With LINE being a form of push marketing, it needs to be able to cater for the different ways a company might wish to connect with its audience.
As such, he spoke about the LINE Official Account, which Wong notes is usually for bigger companies and brands and requires a budget of a few hundred thousand a year, and LINE@ (line-at) which is catered towards SMEs and is free, with the option of going premium for a nominal fee.
Wong noted that LINE@ has a simple registration procedure, while allowing multiple accounts in the event of multiple businesses. It allows the business owner to be able to manage PMs, or assign the task to a colleague or staff member as well.
"It is a mobile-first strategy, offering multiple accounts for different outlets or businesses. It can handle PMs, can broadcast, allows you to publish content as well as run campaigns. These benefits can be utilised for free, or you can go premium for a small fee, which would let you pick your ID," noted Wong.
Also covered during the session was the types of campaigns that can be run using LINE.
"Split-second decisions are par for the course, so make the deal you are pushing as no-brainer as possible when doing a promo blast. LINE can also be used to distribute coupons for O2O campaigns, run interactive campaigns, and perform surveys and contests," said Wong.
He cited the recent MYCYBERSALE as an example of LINE marketing, which allowed vendors to perform flash sales, which required being able to get the news to the entirety of the audience almost immediately.
To conclude his session, Wong advised business owners that LINE marketing, as with most forms of social media marketing, is easy to start. However, it also requires a lot of effort to grow and maximise the channel while tailoring it to suit a particular business, as well as to utilise the channel to its full potential.
The second speaker, who spoke about WeChat marketing, was Samuel Soong, the business solutions director of APAC Venture.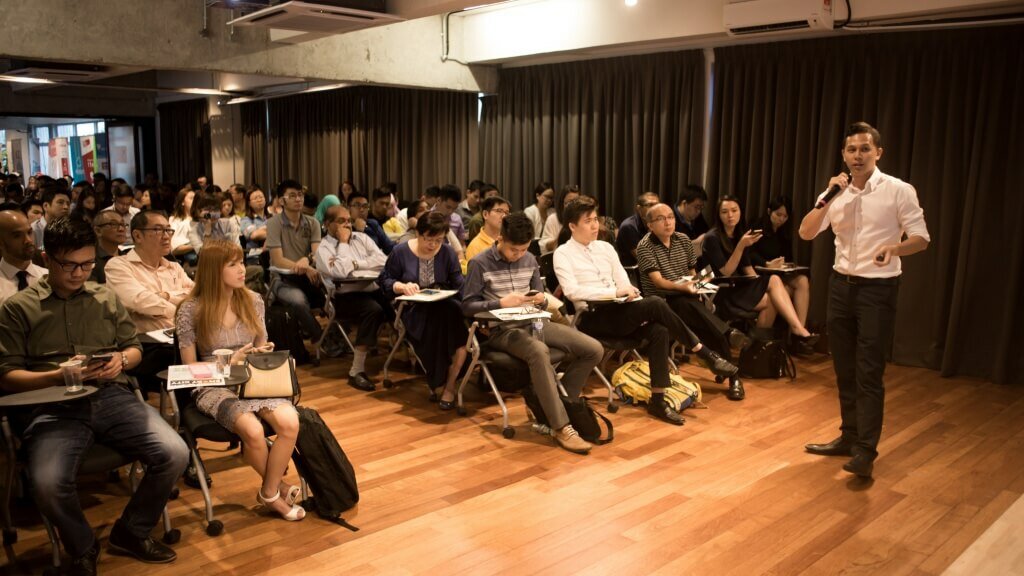 He first introduced the concept of funnel marketing to the crowd, which involved the steps of funneling the crowd to a Master Website, creating awareness of what is being promoted, nurture an interest, then a desire among the crowd for the promoted item or services, then include a call to action to convert that nurtured desire and interest into sales.
Soong then applied that to WeChat, which translates to driving the crowd to a business' WeChat, where a new product, promotion, or service is announced (creating awareness). More details are then provided (capturing interest), along with content that portrays the item/promotion/service in a good light (converting interest to desire). Lastly, a call to action is added, which is to convert that interest into sales.
"WeChat has 15 million monthly users in Malaysia alone, and using an official account there allows a business to reach all 100% of its followers. This allows for increased accuracy in marketing campaigns," noted Soong, adding that mobile users make up 142% of Malaysia's population (due to some having multiple devices), which is a growth of 4% compared to 2015.
Soong then offered examples of how each step in funnel marketing can be applied to WeChat, such as using QR codes on every piece of advertising or packaging, whether it is through digital marketing or traditional marketing, as WeChat can scan and connect to the landing site within the app itself.
He also advised a clear message when generating awareness, by being direct and telling the audience what the product or service is. Interest can then be generated through articles or blog posts, which should provide more details about the product.
Desire, on the other hand, can be generated through discounts or promotions linked to the product or service, which can be done at the same time with the call to action.
Soong again reminded attendees to use all traditional and digital marketing platforms available to them to drive traffic to their primary platform, which in this case is WeChat, as any marketing platform can generate leads.
APACVenture also offered a promotion for an official WeChat account, menu button customisation, and training for the use of the official account for RM800.
The third speaker, who spoke about Instagram marketing, was Michelle Chuah, the founder and CEO of Supermodel's secrets.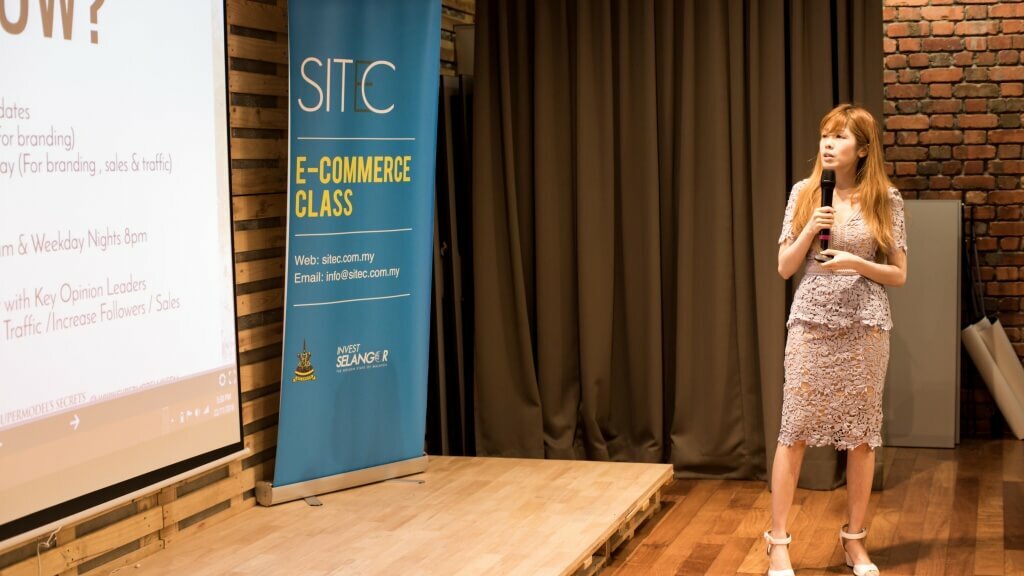 "The thing about Instagram marketing is that it has high reach, but is rather high maintenance. You have to remember to maintain your account, constantly update and interact with your followers, as this not only builds awareness and interest in your brand, but also builds credibility for your account, which you can then turn into a marketing option," said Chuah.
Another bit of advice Chuah had was to really connect with the follower base by posting fun photos or sharing certain company updates like what happens behind-the-scenes, as there is usually high engagement and high organic reach from posts like this.
She also reminded attendees that Instagram was a very visual app, so high-quality photos, or the use of photo-editing apps or software was a must. Instagram also allows the telling of a visual story through hashtags, and also allows linking to other social media, as well as geographical tagging for physical stores.
Chuah pushed home the point that interaction was key in maintaining the account, again stating that this was how followers and consumers would really get to know and trust the brand, and not let the social media account stagnate into something that the company has, but does not fully utilise.
On the topic of gaining followers, Chuah noted that the first database to look to is the one for existing customers. This allows for remarketing, and these are people who already know your brand as well.
There is also the option of gaining followers through the friendfinder, contests, community pages, or through influencers, bloggers, and other thought leaders as well. However, these require knowing the target market, and knowing it well.
Chuah also reminded attendees to interact with their target market through likes, comments, and follows, which can be accomplished with a bot in the earlier stages. One tip she shared was to perform hashtag searches, which allows a brand-owner to better know a target market, and search for keywords that resonate with the target market and the brand for better-targeted marketing. Another bit of advice was to follow top celebrities that are liked by the target market, as the celebrities are also major influencers.
Yet another option is the swapping of reviews with brands that offer different services that are in demand with the target market. This allows further exposure between the two brands, thus reaching more people. Paid reviews are an option as well.
Instagram also offers advertising services, while the brand-owner can also review their own products. Chuah cited herself as an example, where she demonstrates the use of several products carried by her store.
"This helps to raise trust, build credibility, and also increase engagement with the audience," said Chuah, who also listed a series of helpful apps, such as Pitu, Instarepost, Hyperlapse, Pic Collage, Pic Stitch, Getlikes, and Getfollowers.
Chuah then went on to talk about several types of videos that attendees could use on their social media to showcase their products, spread word of a promotion, or to raise awareness of their brand. Branding videos and product/service demo videos showcase products or promote the brand, with the latter commonly based on a time-lapse, so as to show the entire demo in a shorter amount of time.
Next is the show reel, which can be used to show a series of products on promotion, or to show new products or arrivals. Reposting videos that resonate with the brand or the products is also an option, and the business should also make it a point to go along with viral/cool trends or posts, such as the recent case of the mannequin challenge.
One final note of advice Chuah had for attendees was to remember to link the company Instagram to the company website, which makes it easier for potential customers to head to the site.
Market sharing
The first merchant here was Wofollow, which introduced an influencer workshop in collaboration with SmartM, to be held at the Selangor Digital Creative Centre on December 10th. Tickets are RM499 per pax.
The second was Yellowporter, which matches shipments to travellers, with a fixed rate fee. They aim to solve the problem of expensive cross-border shipping by getting travellers to carry the package. With claims as the only Malaysia-based crowd-shipping platform, Yellowporter has fixed pricing with a delivery time of up to 7 working days, depending on the flow of travellers.
The third was APPITALL, which prides itself as the fastest way to send push notifications. The company allows for quick app setups, and allows a merchant to begin sending out push notifications within 60 seconds. With no limit to the app download, the company offers their services for RM399 per year.
Digital Marketing Consultancy was the fourth, and shared about two workshops, one priced at RM170 per person, and the other at RM370 per person, which offers solutions to merchants facing problems in online marketing.
A representative from LogOn was the fifth, and shared about the Asian Digital Marketing Forum. This forum, which will be held in Mandarin, will gather 21 speakers from Taiwan, Singapore, the Philippines, and Malaysia. The two-day forum has tickets priced at RM388 per person.
Shogun2U, the sixth market sharer, provides the service of affordable chef-prepared meals being delivered to your doorstep. They have a mobile app and a website, and is part of the Shogun chain, which provides Japanese cuisine buffets.
Comments
comments