Gifts are a perennially headache-inducing topic. SITEC speaks to DIY Printing Supply about the personalised, novelty items market and their journey in the e-commerce sphere.
Vincent Tong had started http://DIYPrintingSupply.com in 2010, after realising that there was a huge demand for do-it-yourself gift printing in the market, as customers had expressed a demand for something unique, memorable, yet affordable when it came time for gift-giving.
"We decided to start a company that can supply all kinds of Do-It-Yourself gift printing machines, equipment, materials, and other associated goods for business owners, or those who wanted to take advantage of this gap in the market to start a low-cost, high-profit DIY gift printing business," said Tong, adding that they allowed for items like t-shirts, mugs, and button badges, among others.
Tong shared that, when the company was started in 2010, they had been naive in thinking that customers would come to them automatically due to them having a website.
"We found out that building the website is but the first step in going online. Driving quality traffic to our website was another challenge for us, and we learned as much as we can from various internet marketing gurus. We also read up as much as we could on Search Engine Optimisation and Search Engine Marketing, in order to drive quality traffic to our site," said Tong.
"On day 1 of operating our business in 2010, our website traffic was very low. No traffic, no leads, no sales. However, after we worked on our SEO and SEM, our website started to see traffic. As we went along, we improved our website, adding information that customers tended to ask for, such as product photos and descriptions. If customers were interested, they could then contact us directly or fill in our online form to place orders and make payments online," added Tong.
This led to the team registering their official Facebook page for DIYPrintingSupply.com in 2012, where they started to promote their products and services on Facebook, which in turn helped to bring in more sales.
"Through internet marketing, we were able to grow our business by 300% every year since 2010," noted Tong.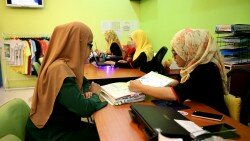 The hard work that Tong and his team had put into building the company has definitely paid off, as, not only did the company net the 2nd Runner-up prize in the Top E-Commerce Merchant Awards 2016, the company had also received other awards, such as taking first place in the Sin Chew Business Excellence Awards 2015, as well as the Golden Eagle Award in 2015, organised by local Chinese newspapers Sin Chew Jit Poh and Nanyang Siang Pau respectively. DIYPrintingSupply.com had also been among the shortlisted finalists in the Rice Bowl Startup Awards 2015.
When asked about the company's strengths and unique points, Tong pointed out that they strove to do their best in constantly improving how they provided their customer service, both in terms of technical support as well as business support.
"For example, we offer full intensive training for our customers who invest in the DIY gift printing machines. Besides that, we will also provide them with comprehensive user manuals and video tutorials for reference," explained Tong, adding that the company also had the most product variety among their competitors, with readily available stock on hand for most of their offerings. 
"We also do our best to maintain a ready stock of our products. This has allowed us to avoid complaints of offering a small range of products, or having our products being constantly out of stock," said Tong, who believes that going online or starting an e-commerce option for either existing or new businesses is a must, as online penetration has only risen every year at a rapid rate.
"We feel very proud to be awarded the 2nd Runner-up prize of the Top E-Commerce Merchant Awards, and we would like to thank SITEC for organising such a wonderful event to appreciate and recognise everyone who has been working very hard for so many years behind the scenes," said Tong, adding that the company will continue to improve, both in terms of their offerings, as well as their relationships with their customers.
Click here to watch DIYPrintingSupply.com's Winner's Video!
Comments
comments