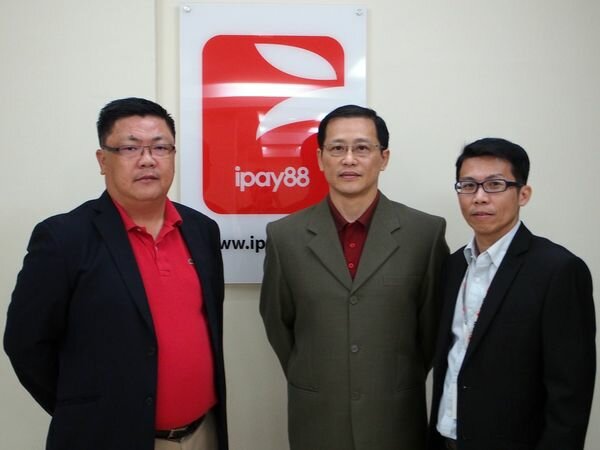 (From L-R): Chan Kok Long and Lim Kok Hing, Executive Directors and Co- Founders of iPay88 Sdn Bhd; and Chong Lee Kean, Business Development Director and Co-Founder of iPay88 Sdn Bhd.
[Picture and caption from Hardwarezone.com]
Malaysian online payment solution provider iPay88 Sdn Bhd today announced that it has entered a new e-commerce trade collaboration with online payment provider PayPal, with the aim of facilitating cross-border trade for Malaysian businesses.
Under this agreement, iPay88 merchants can register with PayPal, and proceed to selling their goods and services across borders, according to KL Chan, executive director of iPay88, who believes that cross-border trade will help businesses of all sizes export to the global market with ease.
This collaboration with PayPal will help iPay88 merchants to leverage PayPal's 184 million active accounts and presence in more than 200 markets to extend their reach without the costs of traditional international expansion. iPay88's merchants will also benefit from PayPal's multi-currency checkout, which will allow the merchants to reach out to consumers worldwide and grow their customer base, as they will be able to receive payments from ten other currencies on top of the Malaysian Ringgit.
From a revenue standpoint, Chan estimates that this collaboration will drive additional revenue for iPay88 in 12 months.
"The partnership with PayPal will offer more value to Malaysian e-commerce businesses. iPay88's existing customer base currently consists of close to 10,000 e-merchants, which include SMEs and large conglomerates in Malaysia. However, there is also a large, untapped market of businesses and companies, which are still considering moving into the online e-commerce sector. This collaboration with PayPal is timely as it will help capture this market effectively by offering both online banking and credit card payment options," said Chan.
"We are extremely pleased to collaborate with Malaysia's leading online payment provider iPay88 to support local businesses in selling overseas. It has always been a challenge for businesses, especially small ones, to expand and sell overseas. PayPal is committed to helping them grow by leveraging the power of e-commerce, which gives them a level playing field when competing with larger export houses," said Rahul Shinghal, general manager for PayPal Southeast Asia.
"We hope that with our support, local businesses can better understand where the growth opportunities lie, build strong trust relationships and become increasingly mobile. This will provide them with the opportunity to tap on current trends, attract the global consumer and become competitive players in the global marketplace," he added.
Chan ended by saying that as the country's e-commerce market grows exponentially, this partnership with PayPal marks another milestone for iPay88, as they continuously look to work with world-leading financial technology players, for the betterment of the local sector.
Comments
comments