A total of 121 knowledge-seeking participants attended EC104: Understanding O2O, the fourth English E-Commerce Class held by the Selangor Information Technology and E-Commerce Council (SITEC) at the Selangor Digital Creative Centre (SDCC) here in Shah Alam.
Following the new format of having a Coach lead the class, Adrian Oh, co-founder of eCommerceMILO, took the lead as he started off the class with a rundown of what O2O means along with several examples of how it has been implemented in Malaysia.

"What O2O (online-to-offline) means is that consumers can buy the services or products online, and then redeem the purchases offline. However, O2O can actually mean both online-to-offline, or offline-to-online," said Oh.
Oh also offered several examples of Malaysian O2O services, such as ParkEasy, a service that allows users to book a parking spot through an app; Zepto Express, an on-demand courier service; TGV Cinemas, which utilises an online ticketing system; Tableapp, which allows users to make reservations at fine-dining establishments; and Foodpanda, which runs a food delivery service that allows users to order online.
The pros of O2O
After imploring for those among the audience who have not tried out local O2O services to try them out, Oh then proceeded towards listing the pros of a brick-and-mortar store going online:
It serves as an easy expansion option, allowing you to serve a larger base without geographical boundaries. That one store would be able to serve all.
It complements your existing storefront, which already makes it easier to convert existing offline customers through sheer convenience, and allows you to own their trust.
It is only the fraction of the cost of opening another physical store, meaning it costs you less to sell more.
You can also make your staff more productive, by getting them to utilise their off-peak time, and add more value and fun to their job. However, this requires the support of top management and the staff.
It serves as an option of clearing stock, where you can hold a fire-sale for old/non-moving stock.
It will serve as your most complete product catalogue, as there is no floor space limit in an online store, allowing you an unlimited number of SKUs to display. This virtual second store concept also allows you to take pre-orders and back orders.
It makes it easier for you to cross-sell and upsell, letting you link product recommendations automatically, rather than depending on the salesperson at that time.
With the lines between offline and online shopping experiences blurring, going online allows your products to be discovered, considering how the first resource people turn to when deciding on a purchase is to do a search on their phones.
It allows you to offer in-store pickup, which reduces delivery costs, and drives people (traffic) to your store.
Oh then touched upon online stores going offline, taking the Warby Parker spectacles retail chain as an example. The retail chain levies on both its online and offline sales by providing unique services and products, with its online side providing the option for customers to select up to five frames to try, which would then be delivered, and the remainder sent back, with shipping covered by the company. The chain's offline segment, on the other hand, goes so far as to have specialty items, such as a particular frame, available only at one particular store.
"It comes to finding a balance between the offline and online segment, and making sure they complement each other, and that the endeavour has the support of every level in the company. Otherwise, things may sour quickly due to perceived competition or lack of results by either one or the other segment," cautioned Oh.
Retail challenges faced by O2O aspirants
After that, Oh spoke about the challenges faced by retail companies going O2O, which typically involve the system. Issues such as real-time stock availability, a synchronised member and loyalty system, a proper integration of Point-of-Sale, online storefront, app, and enterprise resource planning, providing a seamless shopping experience, as well as whether or not the company's culture, management, and staff are able to handle the change are all questions that have to be answered by the business before they attempt this.
Oh then spoke about the webShaper iPad point-of-sale system, which is live and features a synchronised inventory, as well as seamless integration with Airpos by GHL.
The future of O2O
Oh also offered his opinion on the future of O2O, stating that the line between online and offline is blurring.
"Omni-channel retailing will be O2O's future, with customers able to order anywhere through any means, and the products delivered via any channel at anytime. Separating between online and offline sales will be meaningless for retailers, with the caveat that they are the same customers," concluded Oh.
O2O business models with Wofollow's Gary Boon
The first guest speaker to the podium was Gary Boon, co-founder of O2O mobile coupon/advertising firm Wofollow.

Boon opened with three common challenges faced by offline retailers, namely that there tends to be a waste of manpower and resources, that media costs are high and not trackable, and that there is no information on customers who walk in.
These challenges can actually be answered through the application of O2O methods, according to Boon, who believes that O2O does not have to be strictly about the purchase of services via online/offline means and received in the offline/online avenue.
Boon identifies O2O as a business strategy that draws potential customers from online channels to physical stores as well, and functions as a means of strong advertising as well.
Benefits of O2O
Next, Boon covered six benefits of going O2O, which are as follows:
Discover new users through the digital platform
Understand customer interests and behaviour through Big Data
Track the performance of promotional campaigns
Manage orders, forecast sales, and control inventory and costs
Reduces the need to be in a grade A location, lowering costs
Advertise through word-of-mouth via social media and viral marketing
Boon then moved on to introducing eight O2O business models that can be adapted towards growing a business.
Business Model

Description

Example

Group buying

Suitable for service retailers
Comes in the form of discounted services
Sell first, perform service later

Directory

Utilises product or service listings
Transactions are offline
Sees many "PM" requests (as per Malaysian culture)

Mudah.my
Carlist.my
iProperty.com

Social Media CRM

Involves management of official social media accounts
Traffic generator
Builds a brand's follower base
Assists in providing information on product/service
Bot system can be used to help redirect traffic through autoreply

Facebook Messenger
WeChat

Review portals

User-generated content, namely reviews, opinions, and ratings
Allows view of customer feedback in form of rankings as well
Functions as a form of word-of-mouth marketing

TripAdvisor
Zomato
OpenRice

Omnichannel

Integrates both Online and Offline segment
Utilises two models, purchase online and pickup, or purchase offline with delivery

Reservation portals

Usually seen in the form of table reservations for F&B retailers
Allows for a sales forecast, thus avoiding wastage

Cashback/rewards-based

Usually seen as bank credit card rebate programmes, with cash back for certain promotions
Some use a receipt scan system to collect points
Points are part of a loyalty programme
Voucher redemption is a common use of points or additional reward

Citibank
Gaga
Manis
RHB
Standard Chartered

Mobile coupon

Digital exposure through online media
Utilises reviews by influencers
Allows mobile coupon distribution and a check-in system to monitor
Allows promotion listing
After that, Boon introduced Wofollow's products, as well as their mobile coupon system, and invited attendees to join the company as merchant partners.
The story of Bata
The next speaker to engage the audience was Eric Oye, e-Commerce manager of Bata Malaysia, the Malaysian branch of international foot apparel brand Bata.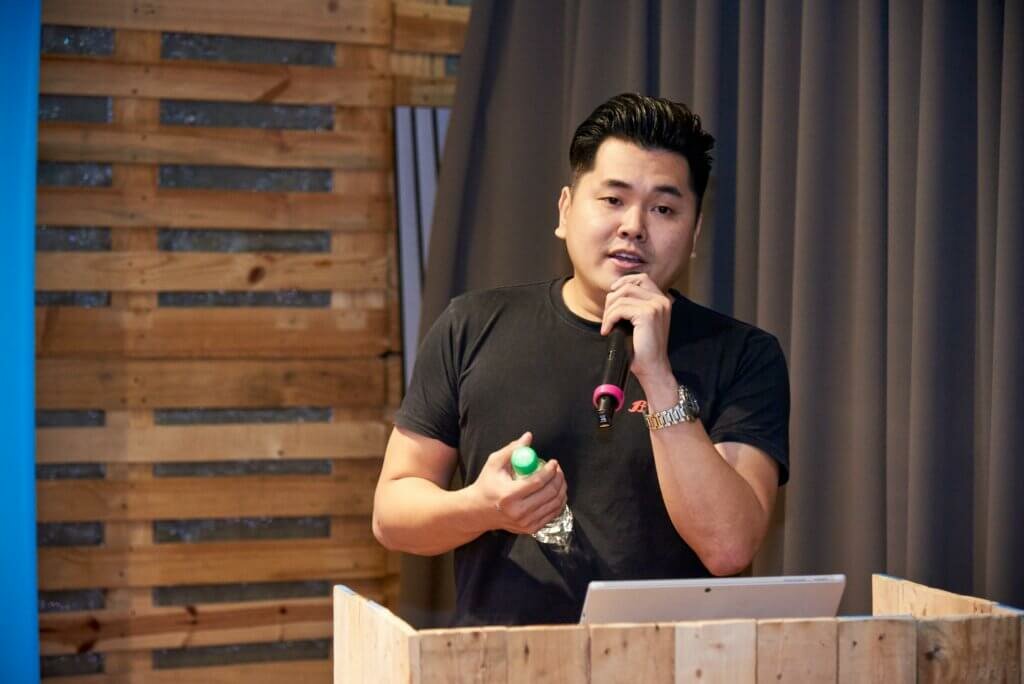 He introduced Bata, providing background on the group, from its founder to the brand's logos and heritage over the years. Following that, he introduced Bata Malaysia, from its origins in Kapar Klang in 1935, to the more than 230 outlets that dot Malaysia today.
Oye then provided some insight into Bata's retailing channels. According to Oye, Bata Malaysia is currently in the Multi-Channel stage of retailing, and in the midst of transitioning to Cross-Channel and Omnichannel retailing.
He also stressed that the full support and commitment of the company and top management is required, in terms of manpower, system upgrades, development budgets, cross-departmental contributions and cooperation.
"There are definitely no shortcuts during this transformation process, and it truly requires a step-by-step implementation, due to the long decades that Bata's retailing system has existed," noted Oye.
As such, the group instead breaks down the process of transition into smaller pieces or achievement milestones, utilising the Plan-Do-Check-Act (PDCA) cycle at each milestone before moving on to the next.
After that, Oye offered examples of Bata's key O2O methods, with the first being Bata Club, which is a loyalty system that allows "huge potential for digital engagement such as EDM, SMS and social media", allowing the group to fire out the latest promotions, assign loyalty points (which are usable both online and offline), and study customer behaviour and interests.
The second offering is the Click and Collect system, which allows customers to purchase online and collect their purchases at the nearest Bata outlet. The website is equipped with a GPS add-on to identify the nearest store, should the buyer use a smartphone to make the purchase. Also on the way is the "try-and-buy" module, which Oye says is currently on trial in the Klang Valley area. Bata tied up with a local logistics player to trial this system, with full implementation pending the results of the trial.
The third method utilises third-party member rewards apps, where Bata collaborates with other corporations for their rewards programmes, such as Maxis Rewards, U Special by UMobile, and the RHB Lifestyle Privilege app, among others. This, Oye noted, allowed further customer acquisition through other channels and platforms to view Bata's own promotions, helping to drive traffic to their site and stores.
Oye then shared about several upcoming products that will be launched soon.
Q&A
Oye was fielded a question by Adrian Oh, namely about how the "try-and-buy" process works. Oye shared that the courier with the logistics company will bring the choices to the buyer, wait 10 minutes while the buyer tries on and chooses the shoes, before the rest of the pairs are brought back.
Oh was then fielded a question on how to resolve conflict between the online and offline sales departments. Oh responded that it is a matter of balancing, and that there is no right answer for every situation. However, Oh also noted that this is a matter that must be addressed, hence the importance of top management support, as, regardless of the system chosen and integration performed, there still needs to be people to run it.
Oh answered the next question as well, on whether there is a cutoff point where entrepreneurs should decide to have a physical presence. Again, Oh responded that there is no answer for this. The decision to develop a physical presence can come from anything, even a hunch from looking at the data. Still, Oh cautioned that the calculations to open a physical store has to be taken into account, and whether or not it makes sense to the product margin. He advised that businesses consider this carefully and think their choices through, noting that there are also e-retail businesses who will never open a physical store, because it makes sense not to.
Market sharing

The market sharing session saw GigaGigs, a digital mobile crowd-sourcing agency that helps companies find consumers and ask for feedback, talk about their service, looking for clients and consumers alike to join them.
Comments
comments