On May 30th, approximately 100 participants attended EC class 203: CRM and Customer Service, organised by Selangor Information Technology and E-Commerce Council (SITEC). In keeping with the format set up for the EC Classes of 2017, the session was led by a coach, Sunny Ooi, co-founder and managing director of ClickAsia Malaysia and Singapore, who was followed by two other speakers.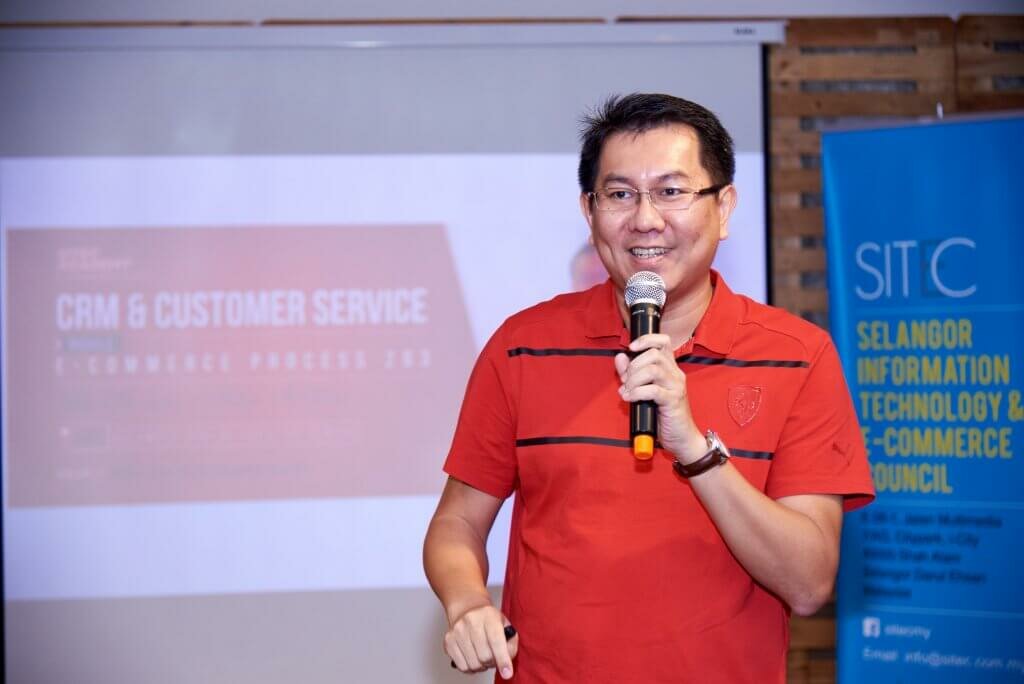 In his portion of the session, Ooi shared about his own experiences in customer service, while giving a rundown of the customer service process. Customer service, according to Ooi, comes into play at two points of the sales process, namely during the presales or selling period, and the postsales or aftercare period.
Customer Service Tips and Best Practices

Ooi suggested seven ways for businesses to provide exceptional customer service, namely, offering multi-channel support to customers, listening on social media, tracking all customer interactions to eliminate wasted time, creating a support center for customers, providing online chat, focusing on timely responses to inquiries and complaints, and delivering a Wow experience, which he described as combining empathy and understanding the challenge faced by the customer, identifying and resolving the issue with skill, and bringing the lesson back to the organisation.
When it came to best practices, Ooi noted that his own experiences in running ClickAsia has shown that responding quickly to inquiries and complaints, showing a proper appreciation for the customer for choosing his brand, and properly managing expectations as among the best practices that should be a part of each business. In terms of e-Commerce, own-brand sites that have a trust seal that can be verified has shown to be able to more quickly and easily secure the trust of secure customers.
Proper email marketing still has its place
The first guest speaker was Melissa Lee of GetResponse, who spoke on the topic of email marketing and marketing automation.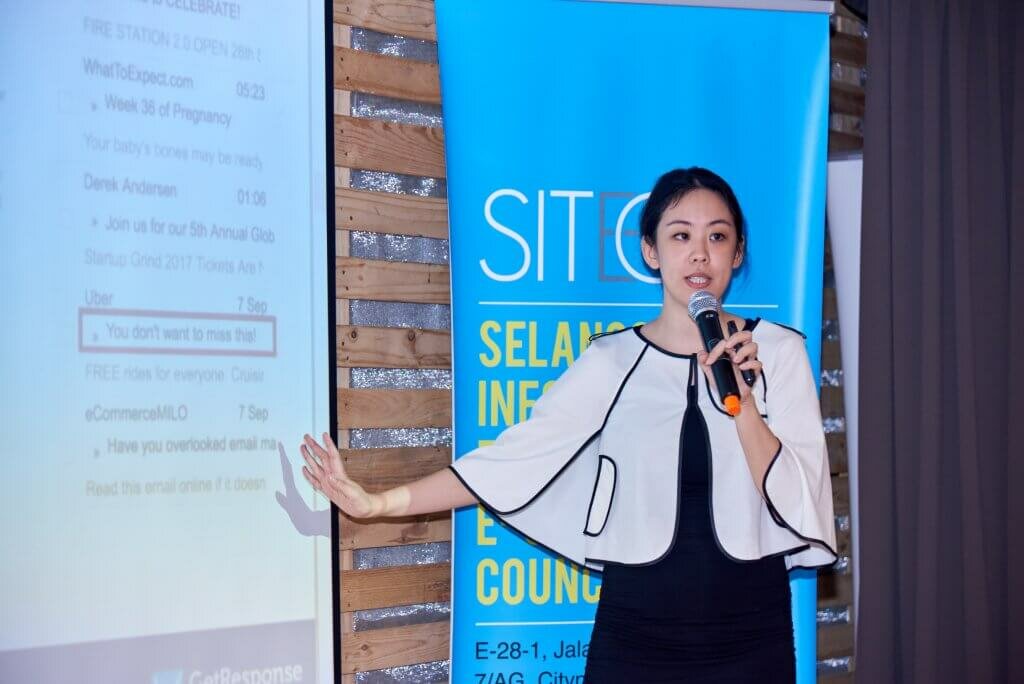 "Email marketing is not dead, but unsolicited emails are. This means that randomly sending emails to people you have no permission to send emails to will just get your emails deleted or shifted to spam. However, when you send properly-targeted emails to the people you do have permission to email, responses can be even higher," said Lee, who added that the parts of an email should be informative at a glance while being enticing.
The six most important elements in a successful email message are the sender (the from field), the subject line, the preheader, the header, the body, and the footer. Each portion plays its role in drawing the attention of the reader to your product or campaign, and should be crafted with care to be able to generate leads.
In the process of lead generation through email marketing, the first step is to create a welcome series, thus automating the process of welcoming new subscribers to your email, and consists of a series of emails sent to new readers at regular intervals to introduce and guide them through your product. The second is creating a "top of mind" campaign, which is relevant for readers who are not new, but still have not decided to buy, and has the purpose of keeping you in the mind of your readers.
Part of lead generation is also about considering who the users are, which requires businesses to know their customers, and cater to their interests and motivations, channeling them towards your product. The fourth step is to use tagging and lead scoring, a form of gamification for customer characteristics and actions, where the business assigns a tag or score, thus being able to value that particular customer's lead value at a glance and deciding the proper content to serve.
The fifth step is to reactivate dormant subscribers. These stay on your list, but don't engage with your communications. Inactive subscribers don't open your messages and affect your deliverability that way.
Automation, on the other hand, makes personalisation scalable, and allows businesses multiple avenues of categorising their site visitors, such as through geolocation, time spent in your database, and even language.
The power of chatting
The final guest speaker for the session was Shadiq S. Abdullah, business development director of Brandchat.co, who spoke about the importance and impact of having an active chat on a business' website or store.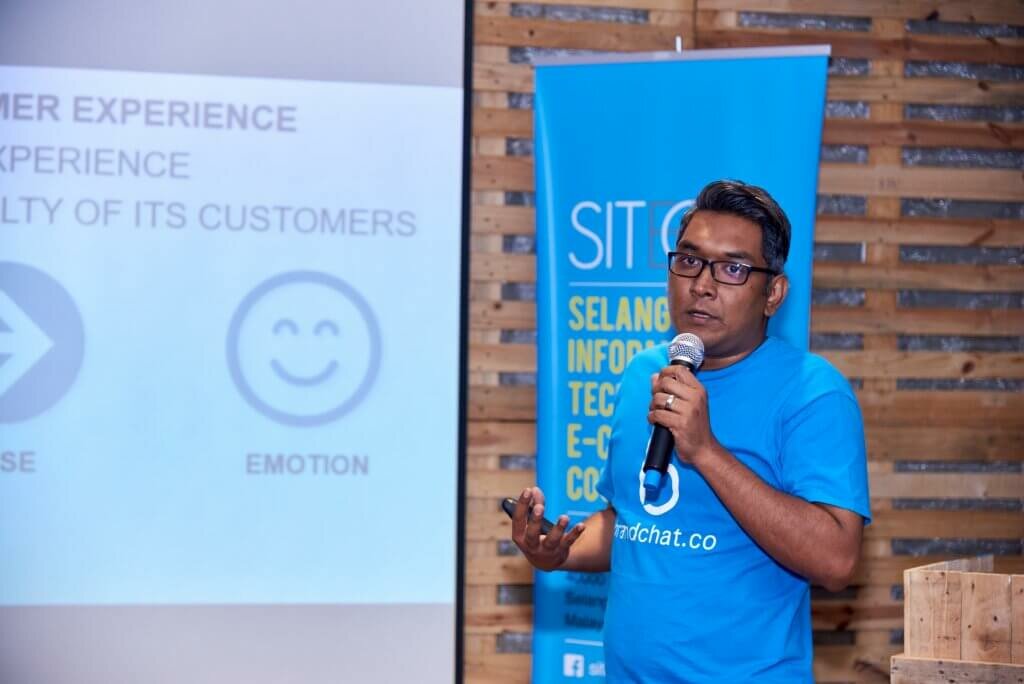 Shadiq noted that chat improves customer experience, and customer experience is what strengthens the loyalty of the customer to the brand. At the same time, chat apps are being preferred more and more as a primary communications channel, with 77% of 27 million internet users in Malaysia alone using instant messaging apps.
Also noted was that the presence of a chat app increases customer satisfaction, customer loyalty, and conversion rates, while lowering the cost per customer served as well as gathering valuable customer data.
However, adding a chat app to a brand-store's site has to follow a clear path, which requires defining chat objectives, whether or not the customer makes the first move to initiate a conversation, properly planning resources and finding a solution that provides analytics suitable to the business, and asking the questions of whether it is available/compatible on mobile devices, as well as whether or not it allows for integration with other third party software.
Businesses also have the option of whether to have staff on duty to respond to chat, or to utilise a chatbot, a service powered by rules and artificial intelligence, that interacts via a chat interface. According to Shadiq, chatbots allow for 24/7 availability and helps save resources, while being affordable and powerful, yet highly customisable to suit the needs of different businesses.
Q&A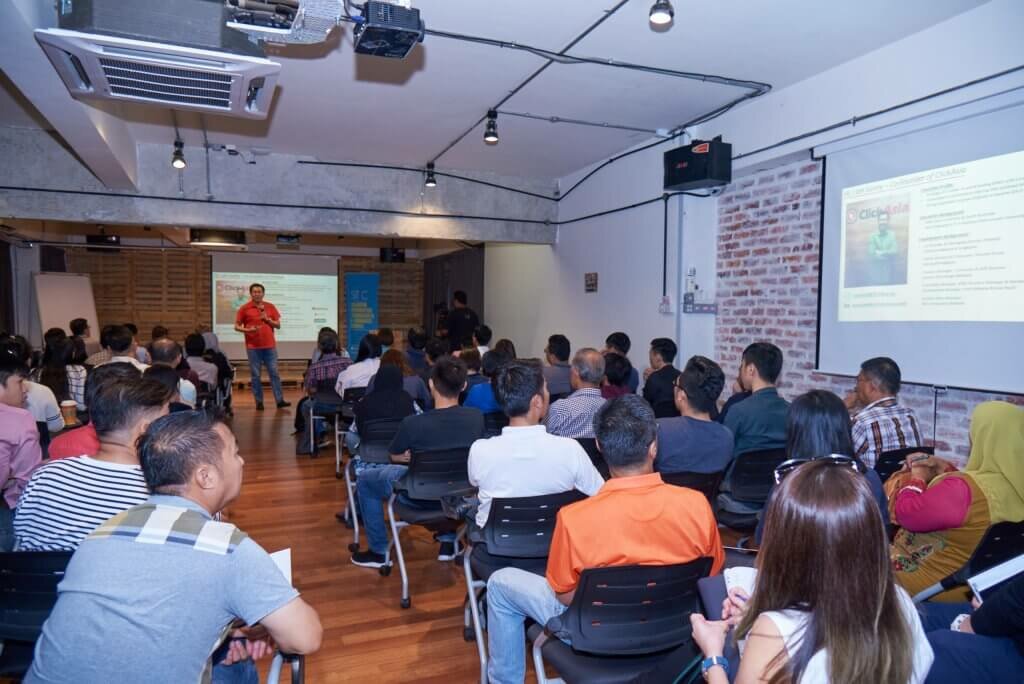 A question was fielded on whether chatbots were available in other languages, with Shadiq responding that yes, with Brandchat's own bots available in Chinese, English, and Malay.
Another question was directed at Ooi, asking for tips to survive in slim margin markets like IT hardware. Ooi responded that it comes down to an economy of scale, which is also why ClickAsia is branching out into cosmetics.
"Relying on only one product category is tough, as you need to build your business portfolio on that product," added Ooi.
Market sharing
The first to share was a representative of PrestaShop, a free, open-source e-Commerce solution that allows businesses to easily create and customise an online store. It has a freemium model, with modules available to be purchased to further customise the store.
The second was a representative from Sin Chew, who shared about the LogOn e-Commerce Forum, which will be held at the Setia City Convention Center in Mandarin, while also calling for applications to the Sin Chew Business Awards.
Comments
comments